Unique Workshops, Unique Instructors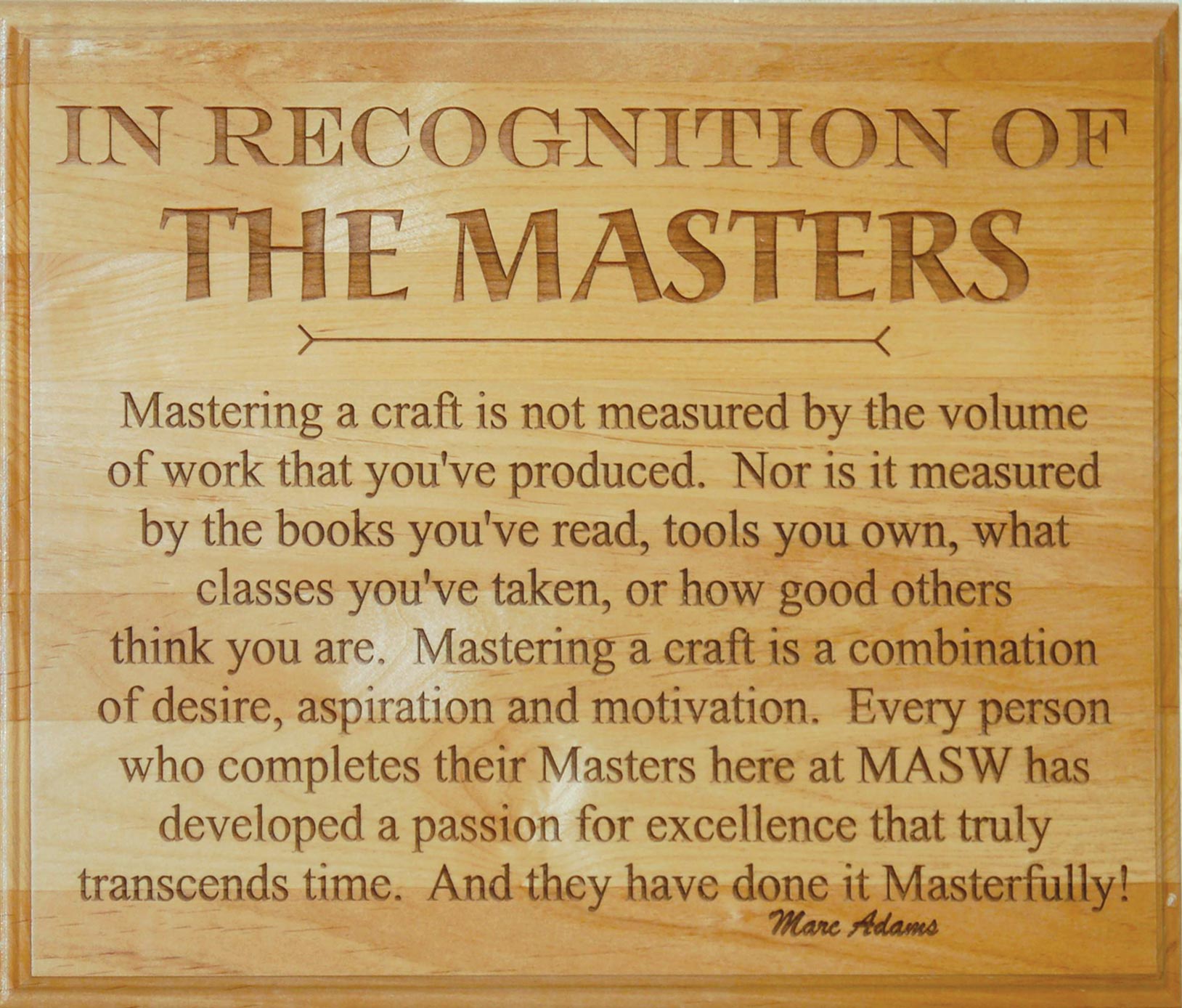 The MASW Masters program is the most recognizable and credible woodworking certificate program in America. To date, there have been over 420 people complete the program—which is incredible!
MASW is not a project school, but rather a technique school. With our diversity of workshops, it's possible to put together a curriculum with mainstream topics taught by the best craftspeople of modern time. Workshops are balanced throughout the year to help fit your busy lifestyle. Simply choose dates, instructors and specific topics that best suit your needs. Time is not a factor; you can work at your own pace and at any time—this is "personalized education" at its best!
The Masters program is currently based on 10 classes that allow students an opportunity to interact with, imitate, and question some of the great woodworking minds and talents of our time.
PLEASE NOTE THAT CLASSES FROM OTHER SCHOOLS ARE NOT TRANSFERABLE.
Recommended Order for The Masters
Unique Workshops, Unique Instructors
I'm often asked for a logical path for the order of workshops for completing the MASW Masters program. Although classes can be taken in any order, it's recommended that the Apprenticeship class be the final workshop.
It is suggested that students start with either the Joinery or Handskills class as one of your first two workshops. Design or Finishing should be the third and fourth choices. The remaining workshops can be any of the technique workshops such as Turning, Carving, Veneering/Marquetry, any Elective or Chair Making and the final workshop should be the Apprenticeship class. This order will be the best way to build a sound foundation of woodworking where one class will build skills for the next class.
Unique Workshops, Unique Instructors
MASW was scheduled to have 25 students complete their Masters in 2020. Unfortunately, most of those students will be moved to the summer of 2021 due to the fact that so many classes were postponed. The good news is that in 2020 we still had 14 receive their Masters.
These 14 "Masters" have taken a combined total of over 175 classes at the MASW.
I have watched all of them grow and mature as confident woodworkers.
We have become good friends, and my life is enriched by having known them.
I look forward to their return in the future, maybe someday as teachers. – MA