Diversity: More Than Just Woodworking
Community: Belonging is Everything
This summer there will be over 245 workshops. Our strength lies in our differences, not in our similarities.
The lineup for 2021 will include the entire range of woodworking workshops PLUS featured workshops in: metalsmithing, glass blowing, mosaic work, painting, mastering chocolate (yes, the edible kind), stereotomy, CNC technology, instrument making, blacksmithing, paper sculpture, leather work, upholstery, calligraphy, and special workshops that are designed specifically for philanthropic purposes.
What makes MASW unique is that our student base is worldwide, our instructors are the best craftspeople of modern time, and our staff and facilities are beyond compare. If you are considering some type of training or formal education in the world of "how to", then the choice is straightforward—MASW simply offers more choices, better diversity, and bona fide credibility. There is no other university, college, vocational program, YouTube video, online workshop or general woodworking/craft school on the planet that can boast that quality of education.
Community: Belonging is Everything
The Marc Adams School of Woodworking is conveniently located just 12 miles south of Indianapolis and is one of the largest hands-on woodworking schools in the world with well over 40,000 square feet of space. It is possible to run six independent workshops all at the same time in completely different facilities. The school has four large bench rooms, three huge tool rooms, a dedicated turning center, a building for glass blowing and metal working, a cafeteria that can serve 100 people at a time, a wonderful multimedia room, and an outbuilding for special classes. The facility features wireless internet service, so bring your own laptop. There are six clean bathrooms (four of which are wheelchair accessible). The buildings are air conditioned, but during the summer students should plan on dressing comfortably. The school also has a FEMA approved tornado shelter that can hold 80+ people.
At each instructor's bench, there is a state-of-the-art digital camera system that puts you closer to the action. A specially designed sound system is available for those who have a hard time hearing during class lectures. Each student has his or her own custom-made Lie-Nielsen workbench and a padded stool on which to sit. There are cushioned mats which eliminate the stress of standing on concrete all day.
There are plenty of power tools and even more hand tools to aid in the learning process. Each tool room offers plenty of workspace, along with a variety of well-maintained equipment.
Please note that the facility will not be open on Sunday afternoons if there is not a scheduled workshop. Students attending full week workshops should plan on arriving the first day of class by 7:45 a.m. For weekend workshops, students should arrive by 8:45 a.m.
Community: Belonging is Everything
The shop is located just 12 miles south of Indianapolis and is only 25 miles from the Indianapolis International Airport. From Indianapolis take I-65 south to the Whiteland exit (exit mile marker 95). Turn left (east) on Whiteland Road and drive 2.2 miles. The shop is on the left hand (north) side of the road. Heading north from Louisville, take I-65 to the Whiteland exit (exit mile marker 95). Turn right (east) on Whiteland Road and drive two miles. The shop is on the left hand (north) side of the road. The building is brown, and the sign says:
"MARC ADAMS SCHOOL OF WOODWORKING – THE LARGEST WOODWORKING SCHOOL IN NORTH AMERICA."
Gift Certificates from MASW
Community: Belonging is Everything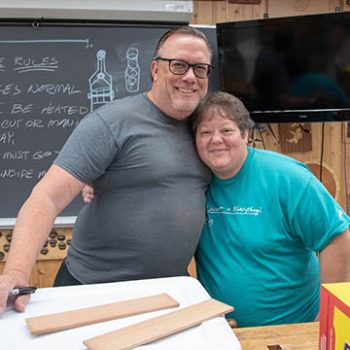 There is no better way to celebrate that special occasion, holiday, retirement, anniversary or birthday than to give a MASW gift certificate. It's easy to do! Just call 317-535-4013 and ask for Paula. Tell her the dollar amount and if possible, the class choice (to assure a spot). She will send you (or the recipient) a very attractive gift certificate and copy of our brochure. Please note that all gift certificates are a final transaction and are non-refundable. Gift certificates do not expire.