Special Events Workshops—Making A Difference
Community: Belonging is Everything
A Very Special Turning Event with David Longaker
with All Money Raised going to the Tim Tebow Special Needs Ministry
Community: Belonging is Everything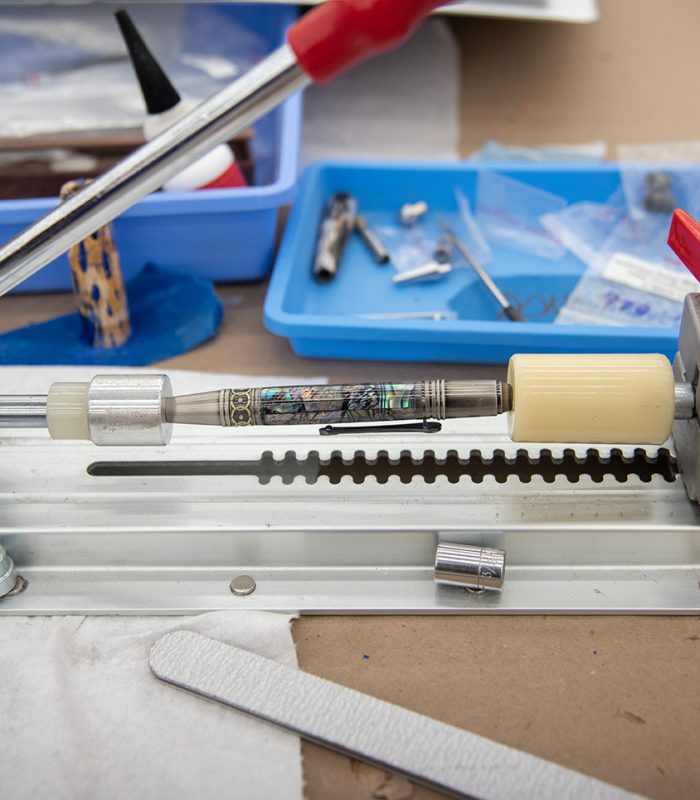 David Longaker is an inspiration to everyone he meets. David was a Special Olympics swimmer in the mid 1990's. Over the years, David became interested in woodworking and a decade ago, started attending workshops at MASW. It's David's goal to complete his Master's at MASW by 2021.
In the summer of 2017 David approached me with the idea of teaching a pen turning class at MASW for individuals with special needs or those with physical challenges. What made a good idea even better was that David wanted to teach the class. David planned the entire workshop on his own—and it's brilliant! His idea was to have "Team Turners" which includes one special needs person and a parent, grandparent, sibling or guardian as the other half of the team. Each "team" will be allowed to attend one of the 4 workshop session. There will be 2 workshop sessions offered on Saturday and 2 workshop sessions on Sunday. David will teach the exact same project at each workshop. The goal for these workshops will be for each Team Turners to make one fully functional ball point pen. A true family heirloom!
The class will cost each "Team Turners" $75, which will be a tax-deductible donation given to the Tim Tebow Foundation. The TTF is based on bringing faith, hope and love to those needing it most. Rooted in the belief that everyone matters, the TTF works to help those worldwide that cannot fight for themselves. Perhaps nowhere else is the need to do something more apparent than in the special needs community. Too often, this demographic is overlooked, marginalized or ignored entirely, particularly in countries outside of the United States. TTF believes that every child of God is uniquely created and inherently worthy of love, hope and health.
Help the Tim Tebow Special Needs Ministry and Sign Up for David's Workshop Today!
Flag Boxes for Fallen Police Officers with Marc Adams
Community: Belonging is Everything
In 2019 there were 89 police officers killed in the line of duty. When our law enforcement officers put on their badges each day, they do so with the intent of protecting citizens of their communities and this country. Police officers safeguard the lives and property of every fellow American; they preserve freedom, keep us safe from violent offenders, respond in times of need and preserve the laws of the land–regardless of the peril or hazard to themselves. Over the last few years, the treatment and respect for these true American Hero's at times has been embarrassing, disrespectful and destructive. The police motto is "to Protect and to Serve" yet there are groups determined to defund the peacekeepers. "Blessed are the peacekeepers, for they shall be called the children of God." Matthew 5:9
In 2018, 28 volunteers from 12 states gave their time and talent to make 125 flag boxes that were distributed by the Indiana State Police to every officer violently killed in the line of duty in 2019 and part of 2020. Unfortunately, 125 boxes were not enough. In 2021, MASW will do this workshop again with the boxes being distributed to EVERY officer killed in the line of duty in the year of 2022. The Indiana State Police has offered to send these special boxes to the family of those fallen officers. Class size will be limited to 30 people and a minimum $365 registration donation will be required. All donation fees will be forwarded to the Indiana State Police to help with the distribution of those boxes.
Help Honor Fallen Officers and Sign Up for Marc's Workshop Today!