Special Events Workshops—Making A Difference
Community: Belonging is Everything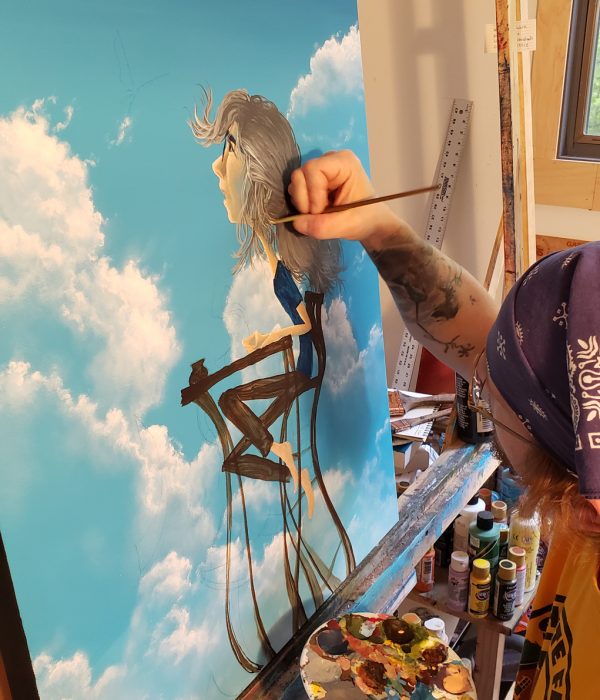 A Charity Event: Take Action & Make a Difference in the Fight Against Diabetes with Lehman
Click for More Information
Carving Wood into Movement (alongside the spirit) with White
Click for More Information
Build Your Own Laser: A Discussion & Roger Cliffe Memorial Foundation Fundraiser with Osgood
Click for More Information
A Charity Event: Take Action & Make a Difference in the Fight Against Diabetes
Community: Belonging is Everything
Gabriel is a humanitarian by nature and uses his gifts to enhance the lives of people across the country. From donating paintings for charity auctions to muraling homeless shelters and church nurseries, if he can help, he will. He sees the light all around him and brings this light into his work and, in turn, into the hearts of those who view it.
This workshop will be based on the gentle "art" of teaching through the joy of giving. Defeating diabetes is a team effort. Though we've made great advances in the treatment and research of the disease, we haven't reached the goal of a cure yet. But it will happen and here is YOUR opportunity to be involved with the final solution. Instead of paying MASW for the class tuition, students will make a tax-deductible contribution of no less than $865 to the American Diabetes Association. In return students will get to spend an incredible week with America's premier artist. 
For those who live with diabetes, either personally or with a family member, remember managing your diabetes is not a science, it's an ART!
Help Fight Diabetes and Sign Up for Gabriel's Workshop Today!
Carving Wood into Movement (Alongside the Spirit)
Community: Belonging is Everything
This summer the school will offer a workshop taught by Christopher White with all the proceeds going to the Roger Cliffe Memorial Foundation. Students tax-deductible donation can be earmarked for one of 4 different categories within the RCMF: Special Need Fund, Intern Fund, David Worrell Fund, or the Military Fund. To date, the RCMF has helped hundreds of students receive financial support to attend workshops. Thanks to the incredible generosity from our staff, faculty and students, the RCMF has gifted nearly $700,000 in financial assistance since it was founded in 2002. For those who dream of coming to MASW but just don't have the financial resources, our RCMF can make those dreams a reality
For a second straight year, Christopher has stepped to the plate to offer a workshop that serves two purposes: to help fund the RCMF and to help students realize their God given Creative Spirit. This class challenges a person's way of viewing woodworking altogether. Its objective is to give each student a greater awareness and command of lines, planes, and forms, expressed through the simple principles of movement. A deeper objective is to gain the awareness that our Creator desires to hang with His creations and aid them in their creative endeavors. Can we actually realize God's help and presence by inviting Him into projects? This could be one principle that makes all the difference. The principles of movement are repeatedly applied and exercised as students carve a piece of wood or turned vessel into polished fluid forms, alongside of the Spirit.
Realize your Creative Spirit and Sign Up for Christopher's Workshop Today!
Build Your Own Laser: A Discussion & Roger Cliffe Memorial Foundation Fundraiser
Community: Belonging is Everything
Mark Osgood is one of the humblest people I have ever met, and one of the most generous. This past summer, he attended a workshop where he brought a fully functional laser system which he made himself–from scratch! What's even more impressive is his laser is as accurate and as powerful as my Epilog laser with one exception, his was $20,000 LESS in cost.
This cost difference ($20,000) would allow a person to equip a shop with the following; a new homemade laser system, a new 5 horse SawStop table saw, a 15" Powermatic helical head planner, a new 8" Powermatic helical head jointer, a new Festool Kapex 12" miter saw, a new Festool Domino XL, a new 14" Powermatic bandsaw, a New OneWay 2436 lathe and still have some spare change left over. PLEASE TAKE A MINUTE TO REREAD THAT LAST PARAGRAPH!!! That is how expensive a laser from Epilog is when compared to the cost of the one that Mark made.
Help the Roger Cliffe Memorial Foundation and Sign-Up for Mark's Workshop Today!
A Very Special Turning Event with David Longaker
with All Money Raised going to the Tim Tebow Special Needs Ministry
Community: Belonging is Everything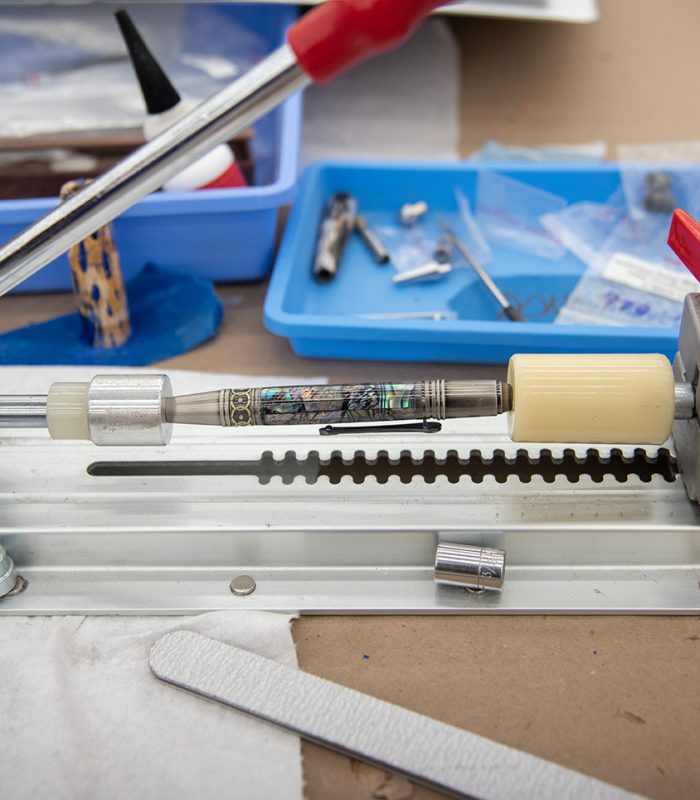 David Longaker is an inspiration to everyone he meets. David was a Special Olympics swimmer in the mid 1990's. Over the years, David became interested in woodworking and a decade ago, started attending workshops at MASW. It's David's goal to complete his Master's at MASW by 2021.
In the summer of 2017 David approached me with the idea of teaching a pen turning class at MASW for individuals with special needs or those with physical challenges. What made a good idea even better was that David wanted to teach the class. David planned the entire workshop on his own—and it's brilliant! His idea was to have "Team Turners" which includes one special needs person and a parent, grandparent, sibling or guardian as the other half of the team. Each "team" will be allowed to attend one of the 4 workshop session. There will be 2 workshop sessions offered on Saturday and 2 workshop sessions on Sunday. David will teach the exact same project at each workshop. The goal for these workshops will be for each Team Turners to make one fully functional ball point pen. A true family heirloom!
The class will cost each "Team Turners" $75, which will be a tax-deductible donation given to the Tim Tebow Foundation. The TTF is based on bringing faith, hope and love to those needing it most. Rooted in the belief that everyone matters, the TTF works to help those worldwide that cannot fight for themselves. Perhaps nowhere else is the need to do something more apparent than in the special needs community. Too often, this demographic is overlooked, marginalized or ignored entirely, particularly in countries outside of the United States. TTF believes that every child of God is uniquely created and inherently worthy of love, hope and health.
Help the Tim Tebow Special Needs Ministry and Sign Up for David's Workshop Today!
Flag Boxes for Fallen Police Officers with Marc Adams
Community: Belonging is Everything
In 2019 there were 89 police officers killed in the line of duty. When our law enforcement officers put on their badges each day, they do so with the intent of protecting citizens of their communities and this country. Police officers safeguard the lives and property of every fellow American; they preserve freedom, keep us safe from violent offenders, respond in times of need and preserve the laws of the land–regardless of the peril or hazard to themselves. Over the last few years, the treatment and respect for these true American Hero's at times has been embarrassing, disrespectful and destructive. The police motto is "to Protect and to Serve" yet there are groups determined to defund the peacekeepers. "Blessed are the peacekeepers, for they shall be called the children of God." Matthew 5:9
In 2018, 28 volunteers from 12 states gave their time and talent to make 125 flag boxes that were distributed by the Indiana State Police to every officer violently killed in the line of duty in 2019 and part of 2020. Unfortunately, 125 boxes were not enough. In 2021, MASW will do this workshop again with the boxes being distributed to EVERY officer killed in the line of duty in the year of 2022. The Indiana State Police has offered to send these special boxes to the family of those fallen officers. Class size will be limited to 30 people and a minimum $365 registration donation will be required. All donation fees will be forwarded to the Indiana State Police to help with the distribution of those boxes.
Help Honor Fallen Officers and Sign Up for Marc's Workshop Today!